NDK Development made easy
Common development tasks out-of-the-box:
Create a new NDK-based application from scratch
Clone NDK samples to experiment with features
Make a copy of any Android App project on your hard disk
Debug native part of an Eclipse-based app in Visual Studio
Workarounds for common NDK toolchain bugs:
Automatic symbol file loading on library loads
Rich knowledge base of common NDK bugs
Powerful GDB 7.4.1 with NEON support included
Automatic diagnostics for common NDK problems
Want more? Read the Android tutorial or see the video intro.
Full power of Visual Studio Debugger
Save time debugging your native App with Visual Studio:
Hover mouse over expression to see its value
Modify expressions on-the-fly
Drag the yellow instruction pointer to set next statement
Enjoy the convenient watch and call stack windows
Use the annotated disassembly view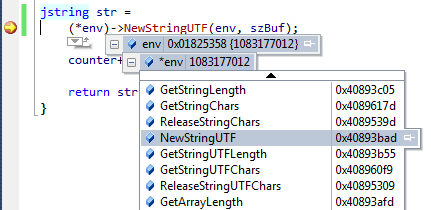 Build messages and IntelliSense
More than just debugging! VisualGDB simplifies development:
Error messages from NDK are shown in Errors window
NDK headers are imported in IntelliSense
The android:debuggable attribute is updated automatically

Easy deployment and launching
VisualGDB will automatically deploy and launch the app:
Real and virtual devices are supported
The ADB diagnostics window simplifies troubleshooting
Attaching to previously started instance is supported
The gdbserver and gdb will be started automatically
Shared libraries are cached locally reducing load time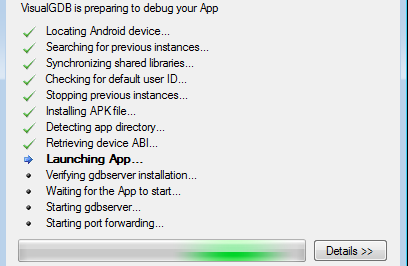 Online tutorials and support
We can help you start developing with ease:
Have questions? We know the answers!
Fast e-mail support for private customers and companies
Help with common NDK problems and toolchain bugs
Integration consulting for your custom environment