Developing STM8 Projects with Visual Studio
This tutorial shows how to develop projects for the STM8 devices with Visual Studio and VisualGDB. We will show how to create a basic "Blinking LED" project, build and debug it with Visual Studio.
The STM8 devices are not supported by the mainstream GCC compiler, hence VisualGDB supports the STM8 devices by integrating with the Cosmic CXSTM8 compiler. You can download a free edition of CXSTM8 on this page.
Another option would be to use the open-source SDCC compiler, however it is incompatible with the STM8 StdPeriph library due to:
No support for placing functions into separate sections. Building the library without manually commenting out the unused functions will overflow FLASH.
No support for placing functions into RAM. The STM8 FLASH driver won't work.
Hence, the VisualGDB support for STM8 devices relies on the Cosmic CXSTM8 compiler. Make sure you install it before proceeding with this tutorial. Once you have installed CXSTM8, follow the steps below to create, build and debug a basic project:
You can use the regular VS Properties GUI to edit settings specific to the CXSTM8 compiler. VisualGDB will automatically display them instead of the regular GCC-specific properties: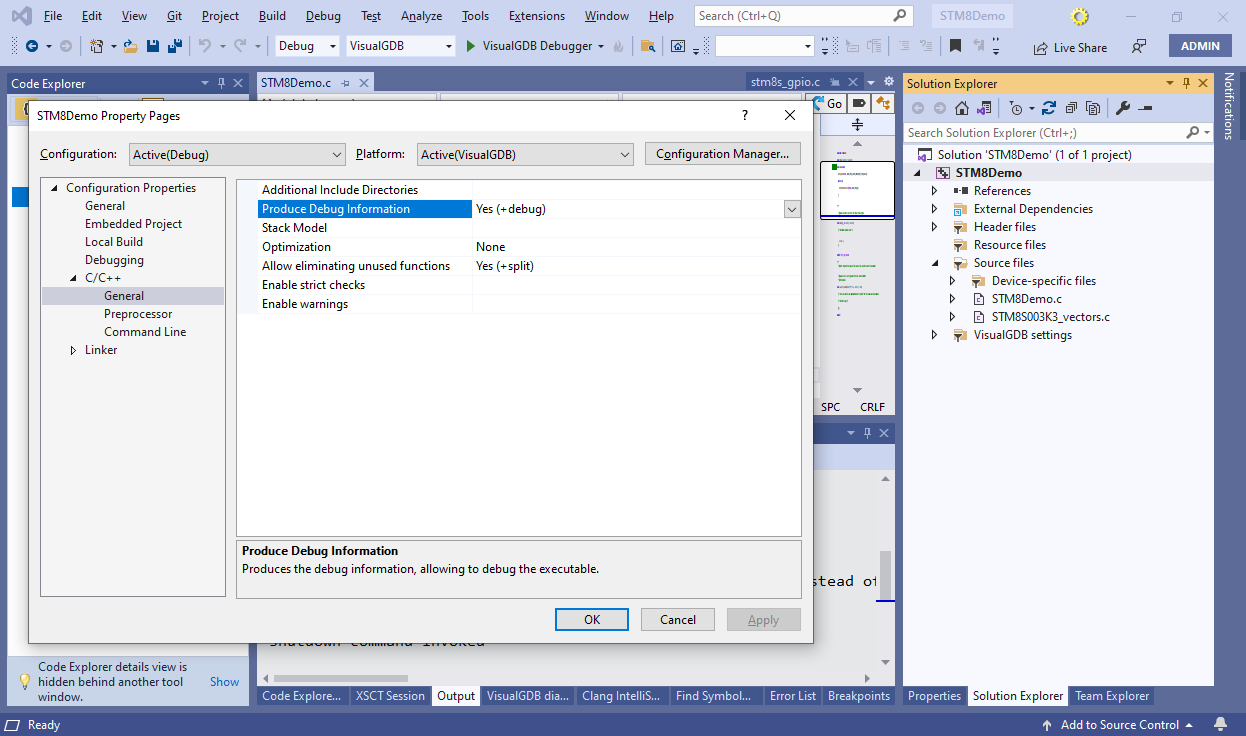 The STM8 port of gdb used by VisualGDB works reasonably well with the binaries produced by the Cosmic CXSTM8 compiler, aside from the step over/out glitches. We have patched the stm8 gdb to recover from the stack unwinding errors (see the stm8-gdb.patch file in the VisualGDB directory), so trying to step over the affected functions will result in stepping into them. As a quick workaround, consider setting a temporary breakpoint right after a function call, and resuming the program instead. Getting the unwinding to work properly would require patching gdb further to reconstruct the previous frame location by parsing the function prologue. If your company is using the stm8 gdb and would be interested in an improving it further, feel free to contact us to discuss the possible options.